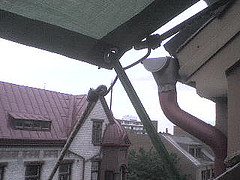 MacGyver Jr. Strikes again
Originally uploaded by ShazzerSpeak.
It rained off and on all weekend…which was actually kind of a nice change. With it came much cooler temperatures, and I slept like a log Friday night and again last night…and still wanted to nap.
But by late Saturday afternoon we were kind of tired of being shut up in the The Penthouse – Nordic .. .so Dr. Darling took one of our tarps (yes, we have several) and rigged a temporary roof over the balcony so that we could sit outside regardless of what the weather was doing. That girl is a wizard with bungee cords!
In addition to sleeping and sitting out on the balcony listening to rain fall on the tarp (very cozy), I spent some time in Malmö's Ugliest Kitchen for the first time in weeks. I made a killer meat sauce for spaghetti last night and then the Swede and I teamed up on a chicken stir-fry tonight.  I'd nearly forgotten that I'm a pretty decent cook.