I'd forgotten how much time I spend making coffee when my mother is here.  She drinks it all day long, and thus fits right in with the java guzzling Swedes.
Dr. Darling and I tend to limit our coffee consumption to breakfast and afternoon fika, a Swedish tradition my Mom enthusiastically embraces.  But because she switched to decaf after having a heart valve replaced in 2001, I have to make two separate pots.  She's only been here for four days and I've already lost count of the number of coffee filters we've gone through.
Fortunately she drinks it black, because otherwise we'd be running through milk like crazy, too.  Dr. Darling, my pal Beks and I all like "a little coffee with our milk."  Beks even has a description for the colour her perfect cup of Joe should be after the proper amount of milk is added…"British tan."
Which is why I thought of her when I came across these great mugs from MyCuppa.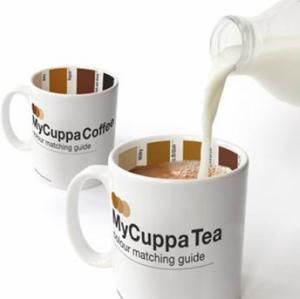 Beks returned to the U.S. on Friday after a great visit. Mom and I trekked around Copenhagen after dropping her off at the airport. Later in the afternoon we rendezvoused with the Ph.D postal carrier at the end of her route and hiked around some more. (And can I just say that she looks SO CUTE in her uniform!) We took Mom to our favorite Japanese noodle bar for dinner before hopping on the train back over to Malmö.
Because when in Denmark, one should always eat Japanese noodles.