I've long maintained that Europeans in general (with the exception of the Brits) and Swedes in particular have a very casual and frankly, much healthier attitude toward nudity than Americans do.
Pro golfer Henrik Stenson helped prove that point during the opening round of some golf tournament last week that probably wouldn't have gotten much notice except that it marked Tiger Woods' return to strokeplay (pun very much intended).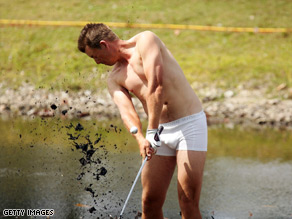 When his tee shot on the 3rd hole landed in the water, Stenson decided to play it rather than take a drop and give up two strokes. And being a typically practical Swede, he stripped down to his skivvies rather than muddy up his clothes with 15 holes left to play.
I'm just waiting to hear how much the PGA is fining him for temporarily violating the course dress code.