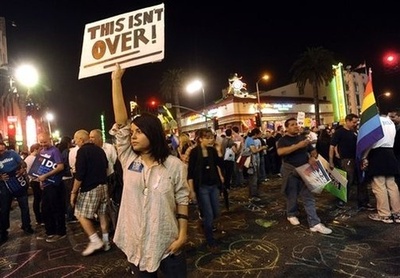 It's been about 24 hours since the monumentally disappointing ruling by the California Supreme Court upholding a VERY narrowly voter-approved amendment to the state's constitution that stripped same-sex couples of their right to marry.
I couldn't imagine that the justices would allow the amendment to stand because of the precedent it would set…essentially making the rights of every other minority group vulnerable to the whims of an intolerant and under-educated majority…no matter how slim that majority may be.
But after reading the specifics of the ruling, I now understand why so many legal eagles predicted this outcome. The decision the court was asked to make had nothing to do with
marriage equality
, but whether or not the California  constitution can be amended by a simple majority citizen vote. They decided that it could.
Which means this isn't over yet.  In fact, based on the reaction in California and the rest of the country, I'd say
IT'S ON
.