Today marks the summer solstice for 2009, but Swedes have been celebrating since Friday. They have a talent for conveniently re-scheduling their holidays so that a 3-day weekend results. It is also Swedish custom to celebrate the "Eve" of the designated holiday, presumably so that the holiday itself can be used to recover from the previous night's party.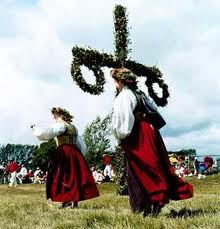 This means that the summer solstic, which actually occured this morning and marks the BEGINNING of summer for the rest the Northern Hemisphere, was celebrated on Friday here in Sweden, where it's considered the "middle of summer". Are you confused yet? Welcome to my world.
Since both Dr. Darling and our Midsommer party host, AKA the Alpha Geek, work in Denmark (where it's not an official holiday), we gathered on Saturday for lovely meal with family and friends. The menu featured four different kinds of herring and two different strawberry-centric desserts … both Swedish Midsommar staples.
Saturday also happened to be the 7th anniversary of my move to Vikingland from the United States. Back in 2002, I thought it was a good idea to have my arrival in Sweden coincide with the country's biggest holiday outside of Christmas, but in hindsight … not so much. The anniversary of the start of my life here gets lost in chaos of party planning and trying to remember the holiday opening hours for the the state-run liquor store. In fact, I'm not even sure Dr. Darling would remember if I didn't happen to point it out.
Good thing I'm not "the romantic type."
Related articles