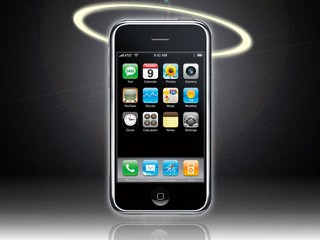 For once, waiting appears to have paid off…even though doing so nearly drove me around the bend.
With each passing day there are more news stories about Apple not being able to keep up with demand for the new iPhone 3GS. In fact, the roll-out is being delayed in some countries because of it. The latest incarnation of the Jesus Phone arrives here in Sweden on July 31 and after two years of drooling over the iPhones of friends and family (many of whom had never even owned an Apple product before), I've finally gotten Dr. Darling to accept the fact that I CAN NO LONGER BE DENIED.
The newest carrier to offer the iPhone here in Sweden ("3") FINALLY released its pricing and service plans last Thursday, nearly a full week after the original carrier (Telia) began accepting pre-orders. Not surprisingly, 3's plans are significantly better value for money than Telia's. And purchasing from them was a walk in the park, comparatively speaking.
In fact, getting my name on a new iPhone from 3 might have been a little bit too simple. All I had to do was call customer service, give the rep my personnummer (the Swedish equivalent of a social security number, but even more ubiquitous) and tell her which model I wanted delivered on July 31. I was so stunned that I momentarily forgot I was in Sweden and really believed that this delivery date was the day the device would actually arrive at The Penthouse-Nordic. Doh!
It wasn't until several hours later that I remembered I was in Vikingland, where packages larger than a standard deck of cards are not delivered to your door unless they are sent by a commercial shipping service like UPS or DHL. Anything larger sent via the Swedish Postal Service, even first-class, winds up at the nearest postal kiosk…in our case, the local grocery store a block away. The postal kiosk then sends a notice that you have a package to pick up…which adds at least a day to the delivery time…or, in this case a minimum of THREE DAYS because there's no mail delivery at all on weekends. GAAAAHHHHH!!!
Some vendors try to compensate for this by offering SMS notification of when and where your package can be picked up, but I forgot to request it and the 3 rep who was in all other ways very pleasant and helpful did not ask me if I wanted it. (Why this question is not part of the standard phone order routine for a mobile phone provider is beyond me…but hey, this is Sweden.)
So I called 3 customer service back the next morning, and after waiting on hold for 20 minutes, asked if I could get an SMS when my new baby was delivered to the nearby grocery store. The rep I spoke to, who was very helpful in all other ways, said that unfortunately my request had to be made when the original order was submitted and there was no way for him to trigger it retroactively. GAAAAHHHHHH again! But he did say I could call back the morning of the 31st (and be on hold for another 20 minutes, no doubt) and they would be able to give me the tracking number so I can pick it up that day. At least their hold music is pretty good.
So, as far as I know…I'm on track to have my long-dreamt-about iPhone in my hands in a mere 5 days. But then again…this is Sweden, so I'm not holding my breath yet.