When we last left our idiot intrepid cycle tourers Shazzer and Dr. Darling, they had just spent two days staying out of the rain in a cozy sea cabin in the Lofoten Islands in northern Norway.  Had they known what they were in for the next night, they probably would have stayed put!

It was quite warm and and only *threatening* to rain when we departed Lyngvaer, so it seemed reasonable to forgo our rain pants. This decision came back to haunt a us a short time later when the occasional sprinkles turned into more regular showers, and water started trickling down our bare legs and into our shoes. This struck us both as rather ironic considering that the tacky-looking plastic bags we were still wearing on our feet were doing a fine job of keeping the exterior of our shoes dry.
After dodging into a small bus stop shelter to dig up and put on our rain pants, we pressed on to Svolvaer, commonly considered the Lofoten Island group's capital city. Our first stop was the Tourist Information Office to get what we hoped would be up-to-date info on accommodation options on the way to Melbu. The weather was still lousy, and we did not want to put up the tent in the rain after riding in it all day.
Our second stop was "the biggest outdoor store in Lofoten", where we bought the only two pairs of cycling gaiters (AKA bike boots) they had, at a premium price, of course, BECAUSE IT'S NORWAY. And surprisingly, the spendthrift Swede didn't even flinch. (Clearly necessity is the key to relaxing Dr. Darling's inner-tight-wad.). We then grabbed lunch at a diner that served us cheeseburgers with sweet corn…AS A TOPPING, which we assumed was some kind of strange local custom.
During lunch we called ahead to the ONLY hotel in Melbu to make sure they had a room available if the weather allowed us to make it that far. The front desk assured us they had space, so, our feet finally properly attired and our bellies full of cheese-coated sweet corn, we continued pedalling north. The weather was not exactly conducive to having the cameras out, so we don't have a lot of photos of the section of the ride. But these shots will give you an idea…beautiful even in the rain.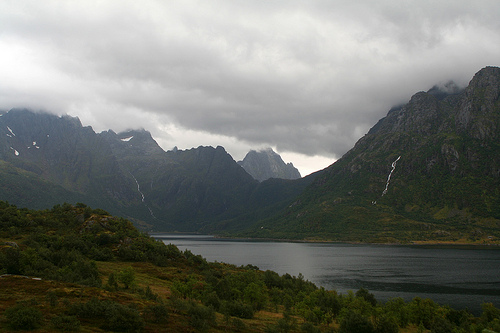 The final stage of the the day's journey was a 30 minute ferry crossing from Fiskböl to Melbu: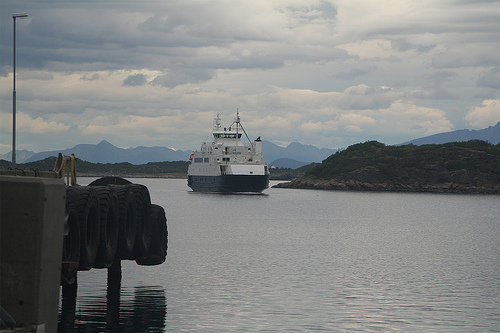 It was nearly 8 p.m. when we arrived, so we were very relieved to find the hotel less than a hundred meters from where the ferry landed. But weirdly, it was locked up tight and looked completely empty.
There was a sign on the door with the number to call if you wanted to check in, but my iPhone could not find a mobile network. Fortunately there was a phone booth nearby (and yes, Norwegian phone booths are as disgusting their American counterparts), and while I was on the landline with the hotel manager, my iPhone magically received an e-mail from Dr. Darling's Dad's wife. WTF?!  If I didn't have a mobile network, how the hell was I able to receive data?
We were still puzzling over this when the hotel manager arrived. She invited us to wheel our bikes right into the entrance of the lobby and leave them there for the night. After getting us registered she helped us haul the panniers up to our room, which was on the 2nd floor at the end of a long hallway. We did not see or hear a soul the entire way there, and I expressed surprise that she was going to leave us alone in an empty hotel. She made a joke about how we appeared trustworthy, and then proceeded to give us a key to a back service door so we could go out and get some dinner. The weirdness just kept on coming!
We soon discovered we didn't have too many choices for food. The town, like the hotel, was dead. But we were starving and not especially picky. We passed a pizza place that looked promising until we saw the opening hours were limited to Thursdays and Saturdays. How does anybody make a living with a restaurant that's only open two days a week? Oh yeah, this is Norway…where the pizza is *really* expensive.
We wolfed down some cold convenience store sandwiches on the walk back to the hotel, which felt even emptier when we were letting ourselves in the back door.  We showered and crawled directly into bed…at which point Dr. Darling said aloud exactly what I had been thinking; that the long, silent hallways were straight out of The Shining, making the creep-out complete. Despite the luxury of a real mattress and clean sheets for the first time in five days…neither one of us slept very well.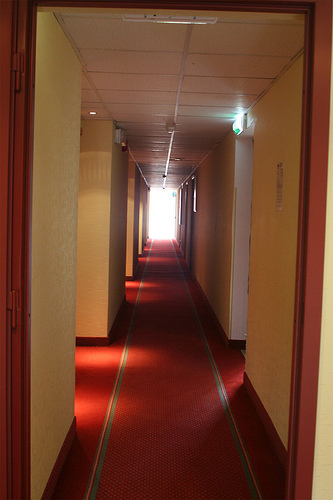 Breakfast was included in the price of the room (which the Swede naturally fretted about…the tight-wad was back in less than 24 hours), and it was in the dining room the next morning that we first saw what may or may not have been other patrons of the hotel. Three older couples who all appeared to know each other were already seated when we arrived, and initially I thought they were locals just out for breakfast. But the buffet was nothing special, certainly nothing I would have gone out for, so we reasoned they maybe they did stay in the hotel the previous night…just not on our floor.
Or perhaps they just went to bed early.
Or maybe they were partying with the ghost of Jack Torrance in the 1920's-style ballroom…