Besides our mutual admiration of Rachel Maddow (Melissa Harris-Lacewell is a regular contributor to Rachel's MSNBC show and I'm a regular watcher) and our addiction to Twitter? (Her feed can be seen here, mine is here.)
We both get seasick!
And how do I know this, you ask?
Because today, for the first time (that I can ever recall, anyway) our Twitter feeds overlapped!

It started when I wished her a safe trip on a journey involving a flight to Martha's Vineyard. (Flights to Martha's Vineyard always make me nervous.)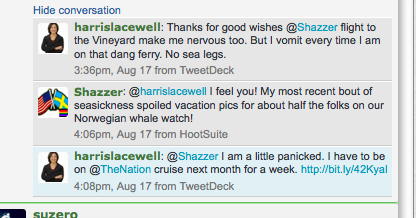 Now this really shouldn't have surprised me, because Melissa Harris-Lacewell is kind of famous for her engagement with her Twitter followers. Still, I could not help but be giddily geeked-out by the brief exchange.
And if I were living in the US right now, I would SO be making plans to go on The Nation Cruise, where I would be green-around-the-gills in solidarity with her!
God I love Twitter.