I'm guessing it's kind of a winter thing, perhaps mixed with a bit of the normal let-down following the holidays, but lately I've noticed a trend among my fellow America ex-pat friends. With startling regularity, via their blogs or Facebook or Twitter, I'm seeing mentions of grilled cheese sandwiches and tomato soup for supper.
This classic combination (it's sacrilege to serve one without the other) was a staple of my mother's extensive quick-meal repertoire, particularly during the lean financial years following my parents' divorce. I loved it then, especially with a big side of chunky applesauce, and it was a regular meal during my days as a singleton in the US. But for some reason, I haven't made it since moving to Sweden. Which is really weird considering the abundant variety of cheese and breads available and the fact that Dr. Darling is appreciative of virtually anything I bother to cook.
So this weekend, for the first time, I *made sure* I had the necessary ingredients to make grilled cheese sandwiches and tomato soup for dinner one night this week. And then, while catching up with my Salon.com feed today, I came across this article: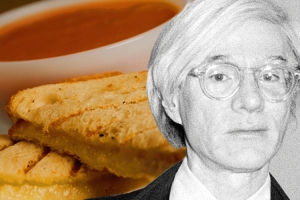 Clearly the Gods are telling me something. I think we'll be having this meal EARLY in the week as opposed to later.