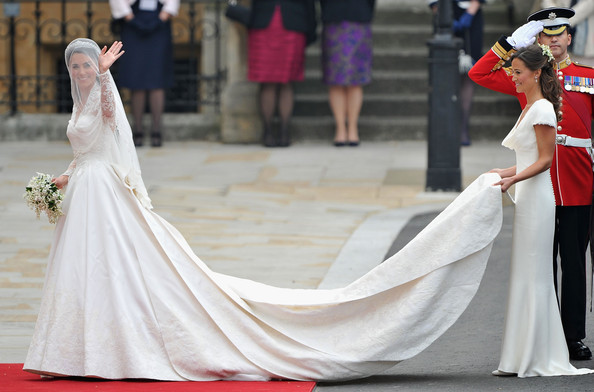 I have been so "tuned out" of the Royal Wedding hoopla that I didn't even realize until LAST NIGHT that the ceremony was happening TODAY instead of Saturday. This both shocked and disappointed my friends who know that I sent Charles & Diana a wedding gift in the summer of 1981. (I wanted a thank you note from Buckingham Palace and by jove, I got one!)
Not that there's anything wrong with getting married on a Friday…it just didn't occur to me that an event of such (alleged) global interest would be held on a day when the most of the rest of the world would be at work or school. So like most people outside of the UK (where I understand it is an actual holiday), I flaunted my company's streaming media policy and watched in online at the office.
And since I haven't really been paying all that much attention to begin with, I had no idea who the stunning creature was arriving at Westminster Abbey with the flower girls and pageboys. Turns out it was the bride's sister and I wasn't the only one who wondered who she was and where she'd been all my life. Pippa Middleton has been a trending topic on the interwebs ever since she first stepped out of the car.
YOWZA.