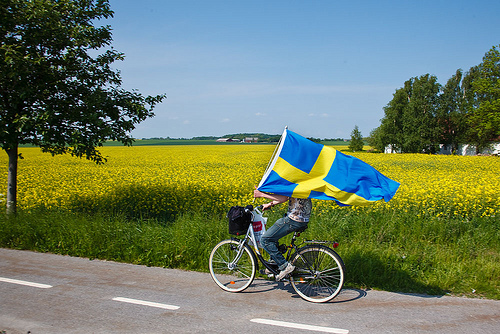 Flickr Photo by Magnus Fröderberg
Today is Sweden's equivalent of the 4th of July, but because it's only been an official holiday for a couple of years, the celebration is pretty subdued. This was especially the case at our place since Dr. Darling works in Copenhagen, where June 6 is not a holiday.
So the native born Swede spent Sweden's National Day in Denmark, while the naturalized Swede mopped the kitchen floor, worked out, and gathered info for my brother's upcoming visit…which will include a trip to Bergen, Norway to see some fjords. At least Dr Darling was home early enough for fika.
But wait, the holiday gets even better! I made beef fajitas for dinner and then spent the better part of the evening following several sites that were live-blogging Apple's 2011 Worldwide Developer's Conference keynote speech, which, given the fact that this country is one of the most digitally tech-savvy in the world, was probably the most "Swedish" thing I did all day.  ;^P