Dr. Darling and I had an unusually busy weekend that involved both entertaining (former work colleagues on Friday night, some in-laws on Sunday afternoon) and being entertained (dinner party with friends on Saturday night), but in all cases the party was tempered by the tragic events in Norway. People in this part of the world can barely conceive of such mass violence, especially when the terrorist is one of their own. Plus, we were just in Oslo, in the neighborhood where the bomb went off, earlier this month during my brother's recent visit.
Between our back-to-back-to-back social engagements and trying to keep up with the nearly round-the-clock Norwegian newscasts, I did not have a chance to read/see any of the coverage of the first same-sex marriages conducted in New York on Sunday, which coincidentally occurred on the one-month anniversary of my own nuptials here in Malmö.
So this morning before work, and then again during my lunch-hour, I surfed through numerous articles, video reports and photo essays on the record number of civil weddings that were conducted across New York State yesterday. And remarkabley, I managed to keep it together until I read the following account from Gawker commenter Thatcornellguy, who is now one of my personal heros:
I was a volunteer today at the Manhattan City Clerk's office, helped hundreds of couples find their way around the main floor, witnessed happy newlyweds walk down jubilantly with fresh marriage licenses in hand, and got to witness two ceremonies for myself (serving as a witness at one). I have done many things in my life, but to be there on this day at this moment at this point in our lifetime will forever remain as one of the greatest events I have ever witnessed and have been so fortunate to have been a part of. I am still at a loss for the right words to describe the incredible feelings of happiness and joy that I felt from the first to the last couple. Despite all of the horrible things happening in the world today, from Norway to Newscorp and more, it was a pleasure to be a part of something that brought so much joy to so many deserving people.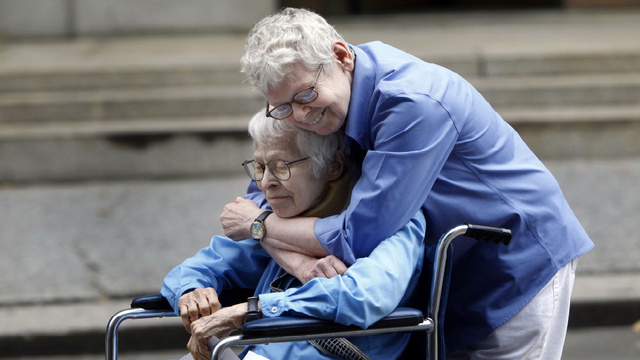 Phyllis Siegel and Connie Kopelov of New York City, the first same-sex couple to get married at the Manhattan City Clerk's office.