This post is dated February 17 because that's the date I actually attended the event described. But it wasn't posted until February 22 at the request of the friend and brand new barista who invited me to said event. (I suspect the "pre-opening social media blackout" rule only applied to Starbucks employees, but whatever.)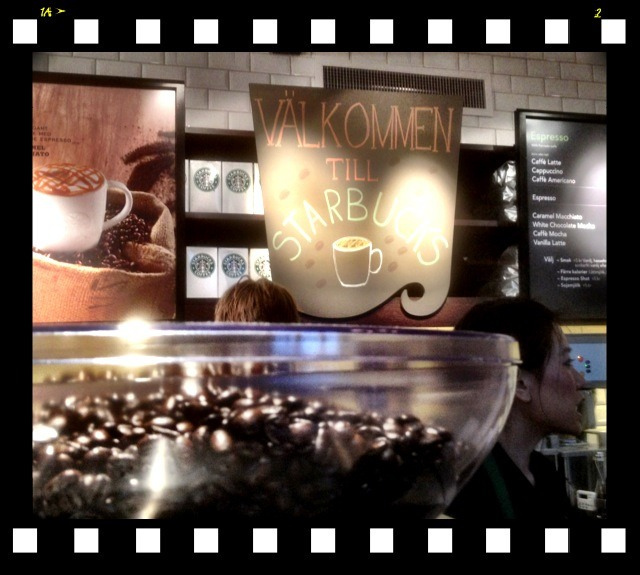 So tonight Dr. Darling and I got to hang out at Malmö's newest coffee shop a full five days before its grand opening.

The Starbucks in the city's historic train station building is one of only three of the Seattle juggernaut's franchises in Sweden. (The first was opened at in Stockholm's Arlanda Airport in 2010 and the second in Gothenburg's central station just last month.) The event was invitation-only and designed to give all the newly-trained baristas a chance to practice on a friendly and familiar bunch of customers. It was a lot of fun. I especially enjoyed the coffee tasting, which paired a number of different brews with a variety of foods and flavors, some of them quite unexpected.
The venue is really nice, very open and spacious compared to pretty much every other coffee shop in town, including the two Espresso Houses in the Central Station. Their prices are comparable to Espresso House as well, something I figured would have to be the case for them to succeed here. Plus there will be free wi-fi.  I can easily imagine myself going for fika there on a regular basis, just for the reminder of home.
I was a little disappointed to learn, however, that the only coffee they would be serving regularly is their milquetoast Pike Place Roast, which was formulated specifically for the American palate when it was launched in 2008. I've always been firmly in the camp that thinks Starbucks over-roasts their beans, but I still long for the days when they offered a choice of a couple different coffees each day, usually their house blend and something bolder.  After living in Sweden for awhile, I always ordered the bold brew, so I would not be surprised if the average Swede found Pike Place Roast a bit on the weak and watery side.
Then again, if the regularly brewed Starbucks coffee is too wimpy for local tastes, customers will be far more likely to order more expensive (and presumably more profitable) espresso-based drinks like lattes and cappuccino.  Mmmmmm, perhaps Starbucks' Swedish marketing strategy is a little smarter than I thought? ;^)