Sweden's annual "Vasaloppet" cross-country ski race held on the first Sunday in March and widely believed to be the longest and oldest of its kind in the world, is hugely popular in this country. Although it is typically won by one of the sport's elite athletes, virtually anyone crazy enough to want to ski 90 kilometers (just a shade under 56 miles) can enter, so there are thousands of competitors every year.  It's also an absolutely snooze-fest to watch on TV.
But I may have to tune in this Sunday now that it's been announced that my favorite Middleton and her considerable assets (pun very much intended) will be among the 15,800 competing.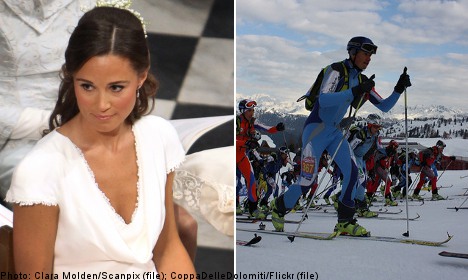 Evidently Prince William's sister-in-law and her brother have signed up for the race to raise money for a UK charity that provides nutritious breakfasts for inner-city elementary school kids.
On second thought, Pippa probably won't be wearing the killer dress that turned the world's head at last Spring's Royal Wedding.
Never mind.
Related articles: