I've got a somewhat significant birthday coming up this summer, and while I'm trying my best to ignore it … friends and family seem to have other ideas. I've already started receiving gifts even though it's not until July.
The first one came last month in the form of the Swede suggesting we go ahead and take the East African safari I've been dreaming about ever since I saw Meryl Streep and Robert Redford romance their way across the Masai Mara in 1985's Best Picture Oscar Winner "Out of Africa."  The trip itself won't take place until August, but the planning and (even more importantly) the paying for it is already well underway.

The second gift was a set of "Dress-Up Barack Obama" refrigerator magnets from my pal Nicci, who evidently just could not wait until my actual birthday even though it would have been the perfect present to give an American Obama supporter on the 4th of July.

The latest early gift is somewhat related to the first. The Swede bought me a spotting scope, something we've been talking about for a couple of years due to my monocular status, which makes it difficult to share our lone pair of binoculars because of the amount of time it take to refocus for my single-sightedness. There's no question that we need a second set for the safari, and it made sense to get something that only requires one eye … plus there's an adapter available that will allow us to attach a 35mm SLR camera directly to it. Very cool.

Here's a photo of me practicing with it on the balcony of The Penthouse-Nordic, suitably shot in black & white due to my ever-advancing age.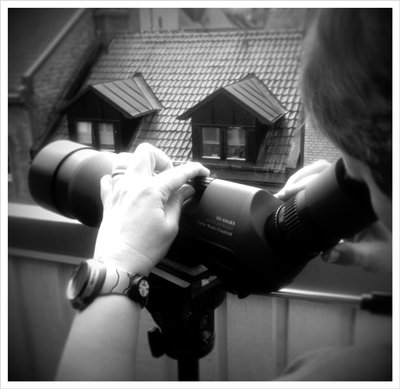 And yes, our neighbors love it.