I'm generally more interested in the Olympics as a global cultural phenornenon than as a sporting event, but I've found myself watching the Games alot this week, mostly because London is just an hour behind us so the coverage is live and there's a ton of it airing in primetime.
I know my compatriots Stateside are not nearly so lucky thanks to NBC's much-maligned decision to tape-delay its coverage and restrict access to its online streams to people with cable TV subscriptions. This leads me to believe the venerable network doesn't really understand how the internet works.
Still, I would only characterize myself as a "casual" summer Olympics fan with the exception of the Opening Ceremonies and women's soccer, where I have both the U.S. and Swedish teams vying for my loyalty. Which means I should probably take tomorrow afternoon off.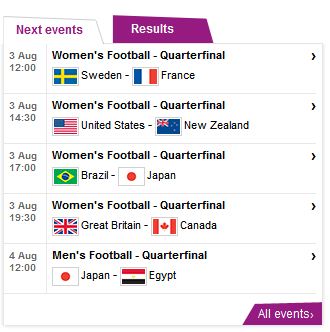 Related articles