The flight from Nairobi to Kilimanjaro International Airport was our favorite of the three … not just because it was the final leg and only 50 minutes long, but because of the incredible scenery along the way. Because we were confined to the airport for our nearly 4 hour lay-over, we hadn't really seen very much of the surrounding landscape and this part of the journey made up for that.
The mountain just seems to rise up out of nowhere, and because there were only 15 people on the flight (most of whom were all seated in a block of just four rows for some reason?) we were able to switch to window seats on the left side of the plane for the best view.
Obtaining a visa was just as easy as our safari agency promised, and our backpacks were waiting for us as soon as we cleared immigration. We were met by the cousin of one of our agency owners, George, and our driver/guide Benja, who we later found out is Masai.
From there we were off to Arusha for lunch … because by now it's noon and the last meal we had was dinner served around 2 a.m. on the flight from Doha. When I commented that it seemed really odd for an airline to serve such a big meal in the middle of the night, George suggested that it may have had something to do with Ramadan? and the fact that many people are fasting during daylight hours. That makes sense.
Over the course of the hour-long journey, we saw all manner of goats, cattle and donkeys … usually accompanied by people and often in the road. It really hits you how different the culture is from what you know back home.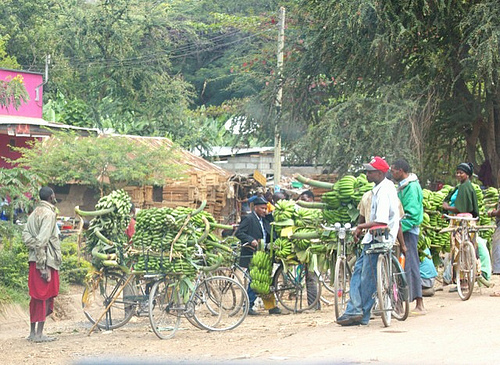 Our agency operator's brother, Gabriel, joined us for lunch (the Kilimanjaro Safari Agency is clearly an extended family affair). He took us, along with Benja, to a restaurant very popular with the locals which featured a buffet of standard African fare that was naturally quite exotic to us. I tried a little bit of everything … including the African staple starch, Fufu, which I've always wanted to try … and liked the vast majority of it a lot. Dr. Darling was typically more timid and ate a lot of rice, thought I giver her major bonus points for trying the Fufu.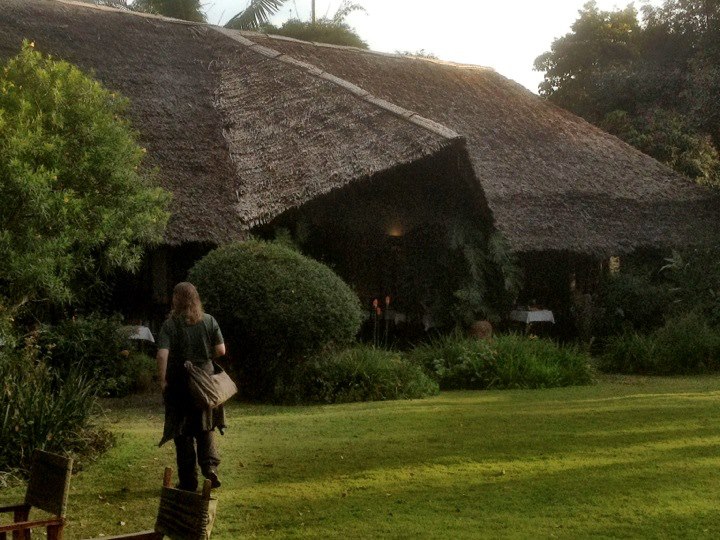 Then it was on to the Moivaro Coffee Plantation Lodge, which is as charming as it sounds. After a much longed-for shower and a two-hour nap in our cozy little cabin, we explode the grounds a bit before Gabriel and George fetched us for dinner. The Swede was initially a bit disappointed when Gabriel said he was taking us back to the same place where we'd had lunch. But instead of the buffet that's served at lunchtime, the specially is African BBQ, which caused her to perk up a little.
I was a bit disappointed that they were out of goat, because that's another dish I'm eager to try. The guys ordered chicken while the Swede and I went for the beef  … which was very tasty but served on-the-bone, something that Dr. Darling normally would not touch. But she was hungry and eager to be a good guest, so she soldiered through it … a task that was probably made a bit easier due to how dark it was in the restaurant. It hard to get squeed out by something when you can't really see what you're eating!  I was really proud of her.
Once we were dropped back at the lodge, we had a nice chat with the desk clerk who gave us a quick Swahili lesson, which allows me to wish you all a "Habari ya jioni" (good evening.)