As Michelle Obama's speech during the opening night of the 2012 Democratic National Convention aired at something like 4:30am here in Sweden, I did not watch it until mid-morning today. 
Wow. Just WOW.
And I'm even more impressed since learning that she wrote it herself. The First Lady didn't just knock that ball out of the park, she belted it into another galaxy.
Michelle used personal stories about the President to show how his experiences helped form the values that now drive the agenda that leads to policy. It was emotional, it was compelling, and it was a complete take-down of Mitt Romney without one single mention of his name. In a word: masterful.
I now understand why the Twitterverse exploded the way it did. Here's one of my favorites, courtesy of David Roberts at Grist.org (whom I'm now following, BTW):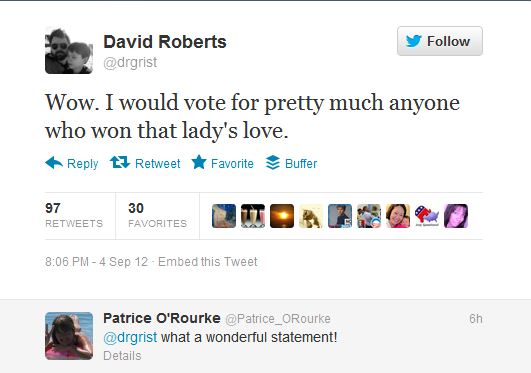 There are lots of reasons to re-elect Barack Obama, and I have no problem adding this one to the list.
Related articles