For a country as music-crazy-competent as Sweden, it's really kind of surprising that Europe's most popular annual indoor concert series had never been booked here before. But the "Night of the Proms" finally arrived in Malmö last night and it was a BLAST despite the absence of headliner Art Garfunkel. (More on that later.)
The concerts are based on the "Last Night of the Proms," the final performance of the summer Proms season series in Royal Albert Hall in London, so the atmosphere is intentionally light-hearted and casual. The program combines classical favorites and contemporary pop music in a manner that's designed to appeal to a wide variety of ages and tastes … and it really works. 
The orchestra was fantastic and we had a wonderful time along with the rest of the audience, who didn't even seem to mind the non-appearance of "Art Funkle" as Dr. Darling continually referred to him. Though to the organizers' credit, the full team actually came on stage after the interval to apologize for Art's absence, and promised that all ticket holders would be contacted by e-mail about some kind of credit. I'd never seen that done before.
We learned today that Mr. Garfunkel had not been in good voice on Thursday in Stockholm (opening night) and did not perform in Gothenburg on Friday night. Now the Swedish news media is reporting that concert management actually lost track of him after that show, but because his own crew had made the trip down to Malmö, organizers had been hopeful that he would take the stage after intermission.  He didn't. And weirder still, no-one seems to know where he is now. WTF?
But the rest of the performers were fantastic, especially Swedish national treasure Sarah Dawn Finer, who I was actually more excited about seeing than the elusive Art Funkle. To my delight, she sang an amazing arrangement of my favorite of her ballads (Moving On) as her opening number.  And to my even greater delight, she re-tweeted my Twitter update about it from backstage!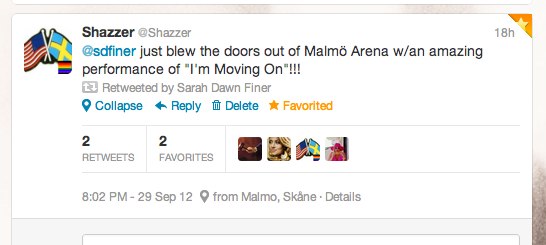 The only way the experience could have been any better was if she'd busted out Lynda Woodruff at some point during the evening, but hey, there's always next year. Because I'm pretty sure that — barring Art Garfunkel going missing permanently — "Night of the Proms" will become a regular fixture on Sweden's musical calendar.