Turns out one of my favorite Norwegian delicacies, a slightly sweet, brown-colored whey cheese that Dr. Darling and I often consume on Digestive biscuits for Saturday morning breakfast, is highly flammable. Who knew?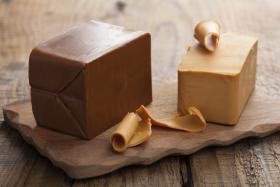 Certainly not the driver of a truck trailer transporting 20 tons of the stuff (known as "brunost" … literally "brown cheese") in northern Norway this week. At some point he noticed that his rig was smoldering, so he stopped and got out.
The only problem was that he was in one of Norway's infamous highway tunnels at the time. (We cycled through a bunch of them during our Lofoten Islands trip and it's not unusual for them to be several kilometers long.) The ensuring cheese fire closed the tunnel (and consequently the road) for five days!
Not surprisingly, the story of the monster goat cheese fire went viral, and even NPR got in on the action if you'd prefer to listen to story rather than read it. And now I find myself with a healthy new respect for my beloved brunost, which will definitely NOT be on the menu if by some miracle my Swede ever decides to serve me breakfast in bed.
Related articles