Swedes have a weird relationship with ice cream. They eat a ton of it, especially in the spring and summer months, but it's the frozen novelties (what Americans would call "kid stuff") that are the most popular.
The "regular" ice cream available in the grocer's freezer is singularly unimpressive, which has always surprised me given how serious Swedes are about all of their other dairy products.  But this probably explains why they are also willing to pay crazy prices for imported American ice creams like Ben & Jerry's and Häagen-Dazs, which cost an average of $6.75 for a half-liter container.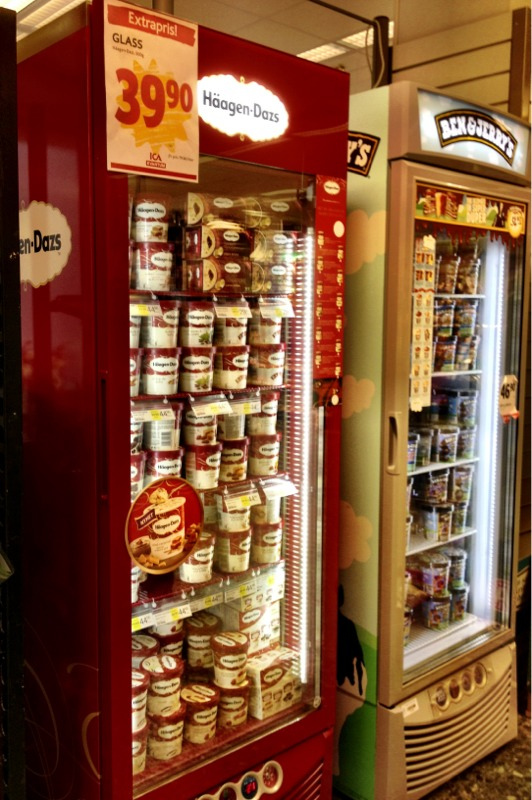 For the last couple of months, the Ben & Jerry's ice cream has even had it's own specially-branded freezer separate from the Swedish ice cream section of our local grocery store. In fact, it's even located in a completely different part of the store … which I suspect is to  help reduce "sticker shock" since shoppers cannot make a direct comparison of the price against the domestic brands. (Though my current favorite, Half-Baked, is worth twice the price.)
The Häagen-Dazs, on the other hand, has remained crammed into a small corner of the sad & bad domestic Swedish ice cream section, even though it's typically priced just as high as the Ben & Jerry's. I love them both … but if I could only choose one to eat for the rest of my life, Häagen-Dazs would win hands-down … which is why it's been so maddening that the H-D selection has always been quite limited and super inconsistent. 
So you can probably imagine my surprise and delight when, during our usual weekly grocery shop this weekend, I discovered that the Häagen-Dazs had finally received its due … an exclusive freezer at the front of the store, parked right next to the Ben & Jerry's display (though I doubt Ben nor Jerry would be especially thrilled about that).
Not only that, but the Häagen-Dazs freezer was filled with a decent selection of flavors for once, including Dr. Darling's current (and up to now, extremely difficult to find) "Mint Leaves & Chocolate" and my latest obsession, "Salted Caramel."
But the pièce de résistance is the fact that it's ON SALE. It's going to be a high-calorie week.