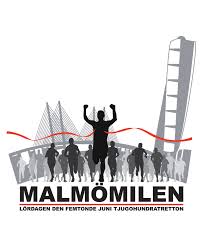 This story starts a couple of weeks ago when, after cheering on my hyper-fit friend Sophie in the city's annual 10k race, she half-seriously (I thought) said one of her goals for next year's "Malmö Milen" was to get Dr. Darling and myself to run it. To which I replied half-seriously (I know) that if anyone could get me to run 10 kilometers in one go, it would be her.
And that probably would have been the end of it, except that I happened to mention the little gauntlet that Sophie had thrown down in front of me in a blog entry about her kick-ass race performance a few days later, and within hours of publishing the post, friends were coming out of the woodwork to support me in picking it up. A couple even said they would run the 2014 Malmö Milen with me. DAMMIT. Suddenly this was starting to feel like a real commitment.
But it wasn't until this past Saturday that I actually had a chance to sit down and really talk to Sophie about it, as well as the spontaneous formation of what appeared to be the most ragtag team of non-runners to ever attempt the Malmö Milen. As we traded tastes of our respective fresh-fruit smoothies (her partner Matilda was the only one who'd had the sense to order real food), Sophie remarked that it would be interesting to see how many of them (none of whom she has met at this point) would actually end up running the race.
"Some people are 'do-ers' and some people are talkers," she said. And then she surprised me by adding, "You are a do-er."
"Are you asking me if I am a 'do-er' or are you telling me that YOU think that I am one?"
Sophie looked me right in the eye (which can be a challenge considering I only have one and it's not always obvious which is "the real thing" when I'm wearing my prosthetic) and said matter-of-factly, "I know you're a do-er."
She had me there. Once I commit to something, I will do it, even if it involves physical or mental torture. And in that moment, I seriously loved the fact that she knew this about me even though it pretty much guaranteed that I had just signed up for nearly a full year of both.
From there we moved into a very candid conversation about how critical accountability was for me to stay motivated about fitness training, especially since Dr. Darling and I are really terrible at pushing each other. Knowing that I am accountable to Sophie as well as the rest of the Malmö Milen 2014 "team" (regardless of whether they turn out to be talkers or 'do-ers') will likely be the single biggest contributing factor in my reaching the goal.
Sophie was totally onboard with this and started offering up a list of things I could begin doing right now since my knees will require me to drop about 20 lbs. before I can actually start running. She rattled off a number of cardio, leg and core exercises between stealing bites of Matilda's grilled sandwich, which I found to be equal parts charming and ironic. (I'm not sure Matilda agreed, however.) I came away from the discussion feeling this odd mixture of "warm fuzzies" for the great visit I'd had with the two of them and total dread for the commitment I'd just made to running the race. As Coach Sophie would say, "It is on!"
Fast forward to this morning, when I learned that two real-life local Twitter pals were about to start an exercise program called the Jillian Michaels 30-Day Shred. I knew who Jillian Michaels was, but I had never heard of this particular work-out, nor had I ever exercised to any type of follow-along video before. But after Saturday's conversation with Sophie, I saw another opportunity to build some more accountability into my fitness effort, and after some quick Googling, I decided I would join my Tweeps in tackling "the Shred."
So when I got home this afternoon, I told Dr. Darling my plan, and somewhat unsurprisingly, she was willing to try the 30-day Shred, too. It promptly KICKED OUR BUTTS. I had no idea I could sweat that hard and work that many different muscles in a 24-minute circuit. It's only been a few hours and I can already tell that I'm going to hurt in places I didn't know existed tomorrow. But it will be a good kind of pain, right?

Related articles