The Swede and I did something different for our summer adventure this year. Instead of a bike tour, we decided to hike the Jämtland Triangle, a series of trails in the moors of the Jämtland mountains. This has been a "Bucket List" item for Dr. Darling and something I was game to try, so we chose this particular trip because it was recommended for "beginning hikers".  And while we had a wonderful time and a great adventure, we both now take issue with that description.

It turns out the Jämtland Triangle trail is recommended for "beginners" because of the distances between mountain stations, NOT because of the ease of the terrain. The longest distance between stations is 19K, which is technically "do-able" in a day for someone with a decent level of fitness and not carrying very much in your backpack (which you wouldn't need to do if you are planning to stay at the mountain stations). We were set up to camp on the moors, which means we had a tent, sleeping bags and mats, Trianga kitchen and all of our food with us, in addition to the multiple layers of clothes needed in the ever-changing environment.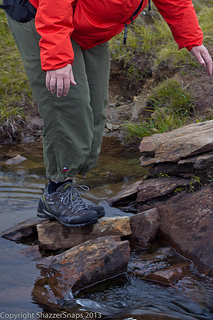 So, with the "great for beginners" label in our heads, we were both surprised at how rugged the trail turned out to be in most places. You seriously needed to be part mountain goat with all the large rocks and gulleys to navigate. This was made even more challenging for me due to my seriously limited depth-perception. I had to concentrate 100% on where I was putting my feet at any given time, constantly trying to calculate the distance  between step-stones in creek-crossings or the angle of the particular rock I needed to jump to next.
This meant that for all the spectacular scenery that surrounded us, I only saw the parts where we actually stopped and looked around, because my lone eye had to be focused on where I was putting my feet whenever we were moving. And all this while carrying 17 kilos on my back (approximately 35 lbs.) Such a load seriously impacts the amount of leg-strength needed to climb and descend, to say nothing of your balance. We are talking a core work-out extraordinaire.
Naturally this slowed us down, too. But Dr. Darling, carrying 20 kilos herself, was amazingly patient with me, often taking the lead so that she could advise me on the best way to negotiate a particularly challenging water-crossing or steep descent. Declines are always tougher for me than inclines, both in terms of my single-sightedness and my knees, so I really appreciated the extra help.
But overall, it was an amazing trip. The nature was beautiful (more to come on that) and the solitude was so peaceful. I even enjoyed the one night we got "rained in" the tent, which actually deserves its own entry that will be forthcoming. And even more importantly, I gained some serious "Swedish cred" for having done it. Even though I've held Swedish citizenship since 2005, it took this trip to get Dr. Darling to declare, "Du är riktigt svensk nu!"