One of my favorite moments from our hiking and camping adventure in the moors of the Jämtland Mountains was Dr. Darling's declaration that by virtue of doing it, I was *really* Swedish now. Evidently "vandring i fjällen" is considered some kind of "right of passage" in certain circles, and I had crossed the magic threshold.
But there were some parts of the trek that felt more "Swedish" than others, usually having to do with the weather, which was constantly changing. We expected it to be chilly at night for example, but on our very first night in the tent, the temperature dropped to ZERO centigrade (32 Fahrenheit). IN THE MIDDLE OF AUGUST.
Thank gawd we'd heeded the advice of the Sonic Youth (who had done a few nights of camping in the same area the week before) and taken our 3-season sleeping bags instead of the lightweight summer ones … which had been very tempting because they are much smaller and easier to carry.
Ironically, the fact that the sleeping bags could be zipped together (which is the only way we've ever used them prior to this trip) was NOT a benefit in this case. They are "mummy-style", which means they are quite narrow at the bottom and actually close around your head & shoulders at the top.  But those features disappear when you zip them together, and every time I moved, a rush of freezing cold air would pour in and wake Dr. Darling up. Oops.
So the following night the Swede decreed that she would be sleeping in her bag solo … which was kind of a problem for me because I cannot handle being zipped in to a single mummy-shaped sack on my own. It's just too confining … so I ended up sleeping on a bare camping mattress and using my sleeping bag as a blanket. Thankfully, it wasn't as cold on the subsequent nights, and the camping mattress provided excellent insulation from the ground. But my next outdoor gear purchase will definitely be a sleeping bag liner that can be used as a sheet on top of the mattress should I get kicked out of our double sleeping bag in the future.
There was one day kind of midway through the trip when we knew ahead of time that we were in for some extended rain, so the plan was to have settled on a campsite and get the tent up before it was forecast to begin around 6 p.m. But Mother Nature is a fickle mistress, and the rain started falling a couple of hours earlier than that, so the tent had to go up in a real hurry.
We managed to find a nice flat surface near a fast-running mountain stream (they were everywhere) as the rain started to fall, but we didn't get as far off the trail as we would have liked, and consequently, were in full view of anyone who happened to be passing by. Worse yet, our campsite was situated several meters *below* the trail, which meant we wouldn't have any warning that anyone was approaching until they were practically right on top of us.
Between the afternoon's hike through an extensive marsh (which required a lot of extra concentration) and the mad rush to get the tent up and all of our gear inside it before it got soaked, we were pretty exhausted and decided the best course of action was a nap. I woke up a couple of hours later needing to heed the call of nature and not very excited about the fact that I'd have to go out in the rain to do it. Then in the course of pulling on my hikers, I happened to catch a whiff of myself and realized that as long as was going to have to get wet in order to pee, I might as well strip down and have a little scrub in the mountain stream while I was at it.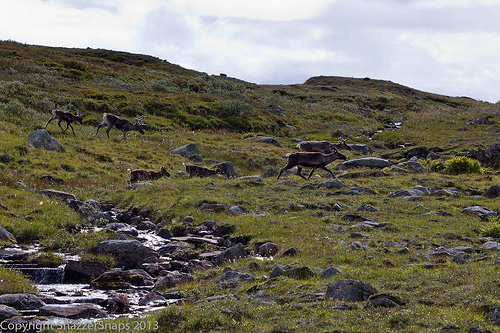 By this time, Dr. Darling was stirring, and though not exactly thrilled with the idea of making a naked run in the rain to the nearby stream in full few of the trail, she could not fault the efficiency and logic of my plan. So we dug up the special German highly concentrated, biodegradable, universal-use soap purchased just for the trip, peeled off he rest of our clothes off and in broad daylight, made the chilly dash toward the water.
As previously noted, the mountain stream water was the perfect temperature for drinking, but it felt glacially cold when splashed on one's privates. Seriously, if I were a man, I'm pretty sure my testicles STILL would not be descended back into their proper position. And in the rush to get the scrub done quickly, we both had taken too big a squeeze of the highly concentrated soap, resulting in massive quantities of bio-degradable foam that TOOK FOREVER to rinse away.
So we're shivering and cursing as we're crouched in this ice-cold stream trying to get our crotches bubble-free, and all I can think about is how traumatizing it would be for another hiker to come over the hill and find us in this state. Not for me, BUT FOR THE HIKER and possibly the abundant reindeer.
Turns out I need not have worried. It had been raining steadily for several hours at that point and it was highly likely that everyone in the area had already set camp just as we had. And in relaying the story to the Sonic Youth after we got back, Sophie informed me of another important Swedish tradition: "What happens in the fjällen STAYS in the fjällen."
Thank gawd for that.
Related articles