Regular readers of this blog know that my admiration for British comedians Jennifer Saunders and Dawn French knows practically no bounds. I have been a fan ever since their first BBC series, aptly titled "French & Saunders", turned up on PBS in the US in the late 1980's. 
I was especially fond of Absolutely Fabulous, the series Jennifer wrote and starred in (and is probably most famous for) in the 1990's. So much so, that when she re-united with Dawn for a live comedy tour of the UK in 2000, I dragged a couple of friends along from the midwestern US all the way to London to see it.
This was incredibly fortuitous, because it was on this trip that I met Dr. Darling for the first time, who had travelled from Sweden to see the same show. So naturally, when we got word of the launch event for her new memoir, Bonkers, we HAD to go.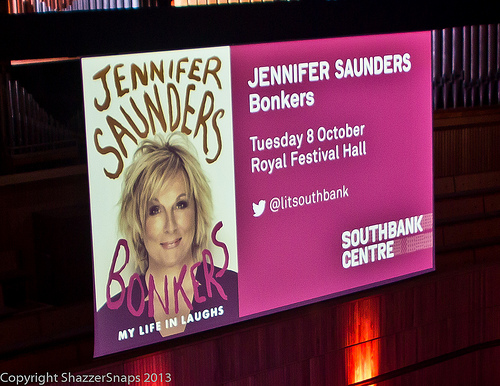 We managed to score great seats in Royal Festival Hall .. in a box on the left side of the stage that gave us a perfect view of Jennifer and Clare Balding, the journalist who interviewed her. Dr. Darling managed to capture a few decent pics despite the less than ideal lighting.
Jennifer was in great form (I've seen her live several times since that show in 2000 so I'm kind of in a position to judge) and the conversation with Clare was lively and enlightening. She even took some questions from the audience toward the end.
When purchasing the tickets, we had the chance to buy a pre-signed copy of the book as well, which of course we jumped on even though we knew there would be an opportunity to buy a book at Royal Festival Hall and potentially have it signed afterward. And indeed it was announced during the program that Jennifer would sign books for a limited period of time … exactly one hour, in fact.
At this point we'd decided that we'd really like to have our pre-signed book personalized, especially since it meant meeting Jennifer and getting to tell her how she is kind of responsible for getting us together. But while our seats were fantastic for the "book chat", they were quite a distance from the ground floor where the book signing was going to be, and the queue was really long by the time we got in it.
Fortunately, the line moved pretty quickly … largely because of the "no photo" rule. While Jennifer took time to speak to everyone, she did not pose for pics with fans, and in fact her handlers wouldn't even allow you to snap her from the queue unless you were very stealth about it, which was kind of a bummer.
Also, only people with books were allowed to approach the table where she was signing, and because the Swede and I only had one book between us (because we're "kind to trees," Sweeties), Dr. Darling was directed to stand off to the side while I handed our book to Jennifer. But as the post-it note we were instructed to paste to the opposite side of the page had both our names written on it in all block letters, Jennifer asked where Dr. Darling was, and when I pointed her out she immediately invited the Swede to join me at the table. TAKE THAT HANDLERS! 
I then gave Jennifer the "quick & dirty" version of the story of how Dr. Darling and I met during the French & Saunders Live in 2000 tour in London, and she seemed genuinely delighted by it … thought she did say she thought I was crazy for coming all the way from the U.S. just to see them.  I replied something along the lines of it being one of the best decisions I'd ever made … and she happily noted that she "brings people together" and wished us well.
She was just as gracious as could be and we came away from the encounter over the moon for having met her. Which can only mean one thing:  We're going to have to start stalking Dawn. But first, we're going to read our personally signed copy of the book! And here is the evidence!
Related articles