Some parts of the internets are going gaga over the new Tiffany's print ad featuring a real (though conventionally gorgeous) same-sex couple.
While I am always grateful for the acknowledgement of gay people's lives in mainstream media, make no mistake that this is about reaching out to a pool of customers that in many cases has a little more disposal income to spend on "bling" than the average (straight) couple.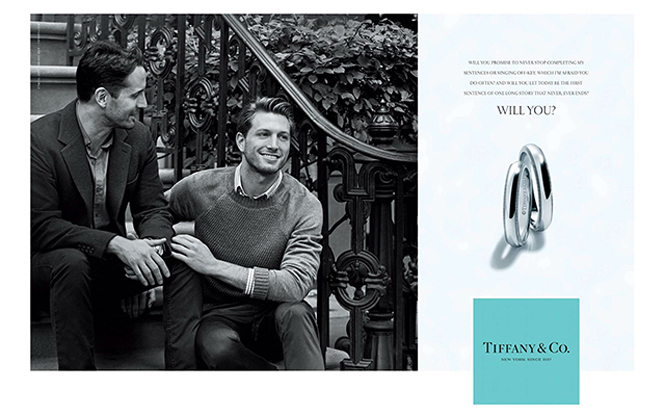 Of course gay couples in the U.S. have been exchanging rings forever, it's just that until fairly recently, there was no legally recognized (and socially celebrated) ritual/event connected to doing so. Weddings are BIG business, so for companies like Tiffany's, this is just smart marketing.
In fact, this is probably a first strike in creating a whole NEW market when you consider that same-sex couples (in the U.S., at least) have not had a reason to buy BOTH an engagement ring AND a wedding band. Then there's the whole question of which partner actually gets the "diamond" to figure out. Or maybe they both do? Unless they're Swedish … in which case the bands you exchanged when you became "engaged" in the summer of 2007 are just recycled when you finally tie the knot in 2011.  😕
Related articles