This is Sophie Ciszek, an Australian-American offshore sailor who is a bowman on Team SCA, the all-female crew competing in the 2014-2015 Volvo Ocean Race.
There are lots of great athletes to admire on Team SCA, but Sophie is my favorite … probably because of the contrast between her sunny, "no worries, Mate" personality and the intense, tactical and physically demanding job she has on the boat. (What can I say, I LOVE complex women.)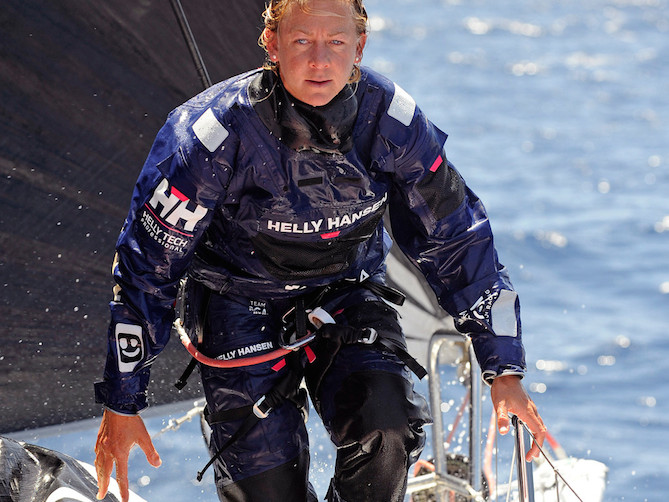 She was also seriously injured last December during Leg 2 when she suffered a ruptured herniated disc while changing one of the big sails in the middle of the Indian Ocean … 12 days away from any opportunity for medical treatment. That kind of injury is misery on dry land … I can't even imagine what it was like to deal with on a constantly rocking and rolling sail-racing yacht.
Normally an injury like that would knock a sailor completely out of the round-the-word race, but Sophie underwent corrective surgery over Christmas, followed by several months of intense physical therapy, and was back onboard for the start of Leg 5 in Auckland in March.
So yeah, Sophie Ciszek is a total bad-ass, and I suspect my original Girl-Jock-Crush-Named-Sophie would approve of this one.