I don't need any help in this department, but news about a special stipulation in Kate Winslet's current contract with L'Oréal just served to validate my long-time admiration of the actress and all-around fascinating woman.
The face of the Lancôme cosmetics line has had it written into her contract that photographs of her may not be retouched in any way for the company's print campaigns.  Not that it would even be necessary. She's pretty friggin' flawless if you ask me.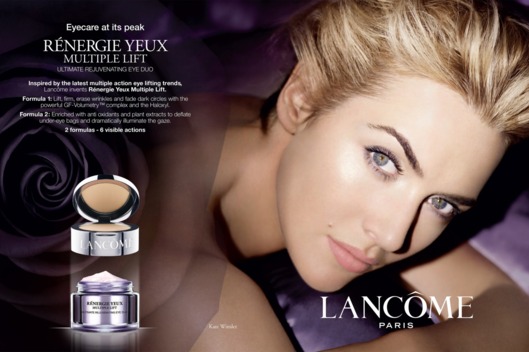 I don't wear makeup myself, but if I were inclined to do so … I would definitely choose a brand that was willing to commit to using un-retouched photos in its ad campaigns, whether they feature the lovely Ms. Winslet or someone else.
In the meantime, I'm counting the days until I can see her in the Aaron Sorkin-penned Steve Jobs bio-film … because when you combine my long-time love for Kate Winslet ("Heavenly Creatures" anyone? with my longtime Apple Fan-Gurl status, I really HAVE NO OPTION but to geek out on multiple fronts,
Related articles